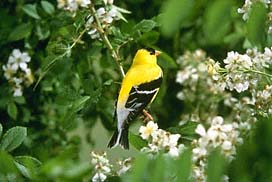 Making your backyard friendly to birds is a common activity of birders. You can attract American Goldfinches like this one with Nyjer thistle seed. You can then birdwatch from your kitchen window on rainy days!


Here are some sites to help you with this requirement:
Plans for a plastic milk jug feeder
Plans for a Soda Bottle Thistle feeder for finches
- A page describing what foods attract what birds
www.nwf.org - The National Wildlife Foundation's backyard habitats page, if you pick option c.